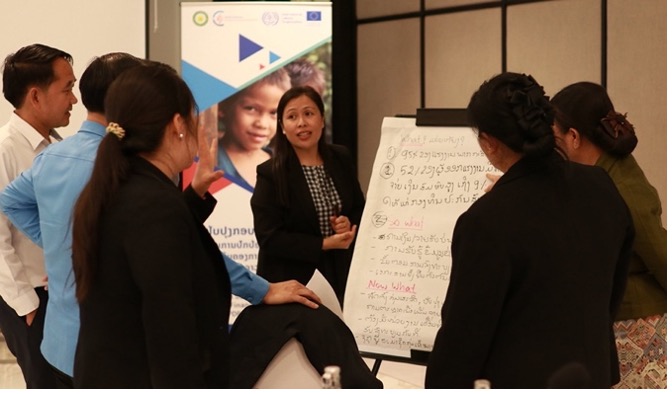 Within the framework of SP&PFM country project, the International Labour Organization (ILO) and the Lao Social Security Organization conducted a multistakeholder workshop on the "Extension of Social Security Coverage to the Informal Economy in Lao PDR". Representatives from government organizations, social partners and civil society groups met in Luang Prabang (15–17 February) to share the findings of a recent quantitative study and discuss how to promote social security membership among informal workers in Lao PDR.
Participants of the workshop on "Extension of Social Security Coverage to the Informal Economy in Lao PDR"
The ILO has been supporting the Lao Social Security Organization in designing and implementing evidence-based policies to expand the social security scheme to informal workers. One of their activities is a quantitative study on the characteristics of informal workers, households and small and medium-sized enterprises; their needs and behaviours; and their willingness and ability to pay for social security. The research explores what needs to change on the demand side (such as promoting awareness and incentivization and how) and the supply side (such as improvements in legislation, design and operations).
"The ILO research contributes to Goal 2 of the National Social Protection Strategy – 'The social security system is further developed and strengthened'. We hope that the findings can be useful for the national consultations on what needs to be amended in the Social Security Law of Lao PDR. The consultations are expected to take place this year and next, with the National Assembly formally adopting the amendment in 2024," explained Loveleen De, ILO Programme Manager.
The February workshop also entailed the exchange of accounts on what other countries are doing to expand social security coverage to informal workers and a visit to the Luang Prabang Provincial Social Security Office to see the systems in place to thus better understand the situation.
For additional insights on the workshop, watch the video and read the ILO brief on the quantitative study to understand informality and design tailored social security policies in Lao PDR.
Learn more about SP&PFM in Lao PDR here.