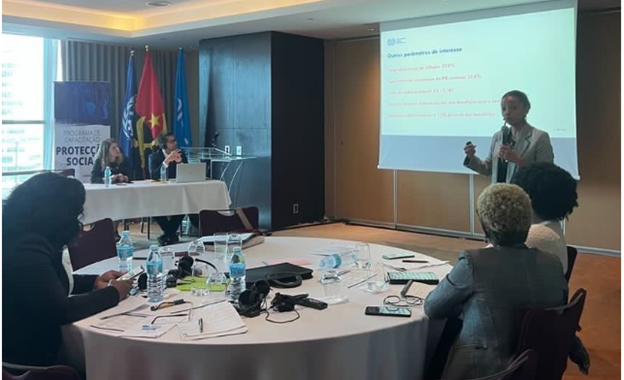 The Ministry of Social Action, Family and Promotion of Women, in partnership with the United Nations Children's Fund (UNICEF), organized a training seminar (27 February and 3 March) on social protection, with experts from the International Training Centre of the International Labour Organization leading the way.
In opening remarks, the Minister of Social Action, Family and Promotion of Women, Dra. Ana Paula Do Sacramento Neto stressed the importance of understanding "the extension of social protection as a mechanism to reduce poverty and social inequalities". UNICEF Representative in Angola, Ivan Yerovi, then underscored that the "ministerial department has the mission to propose and execute social policies regarding the most vulnerable individuals and groups of the population and to coordinate the implementation of the National Social Action Policy".
The training seminar was directed to partners in the social protection sector and was attended by at least 40 technicians who deal with issues considered a priority for the development of the social protection strategy and framework. The main objective of the training was to introduce the participants to the basic principles and policy issues of social protection, based on good international practices and financially sustainable social security schemes. The training centred on strengthening the technical capacity of the national social protection system staff and to orient them in the conceptualization, formulation and implementation of their strategy to reform the social protection schemes and to understand the importance of the extension of social protection as a tool to reduce poverty and inequalities while contributing to economic growth and development.
Learn more about SP&PFM in Angola