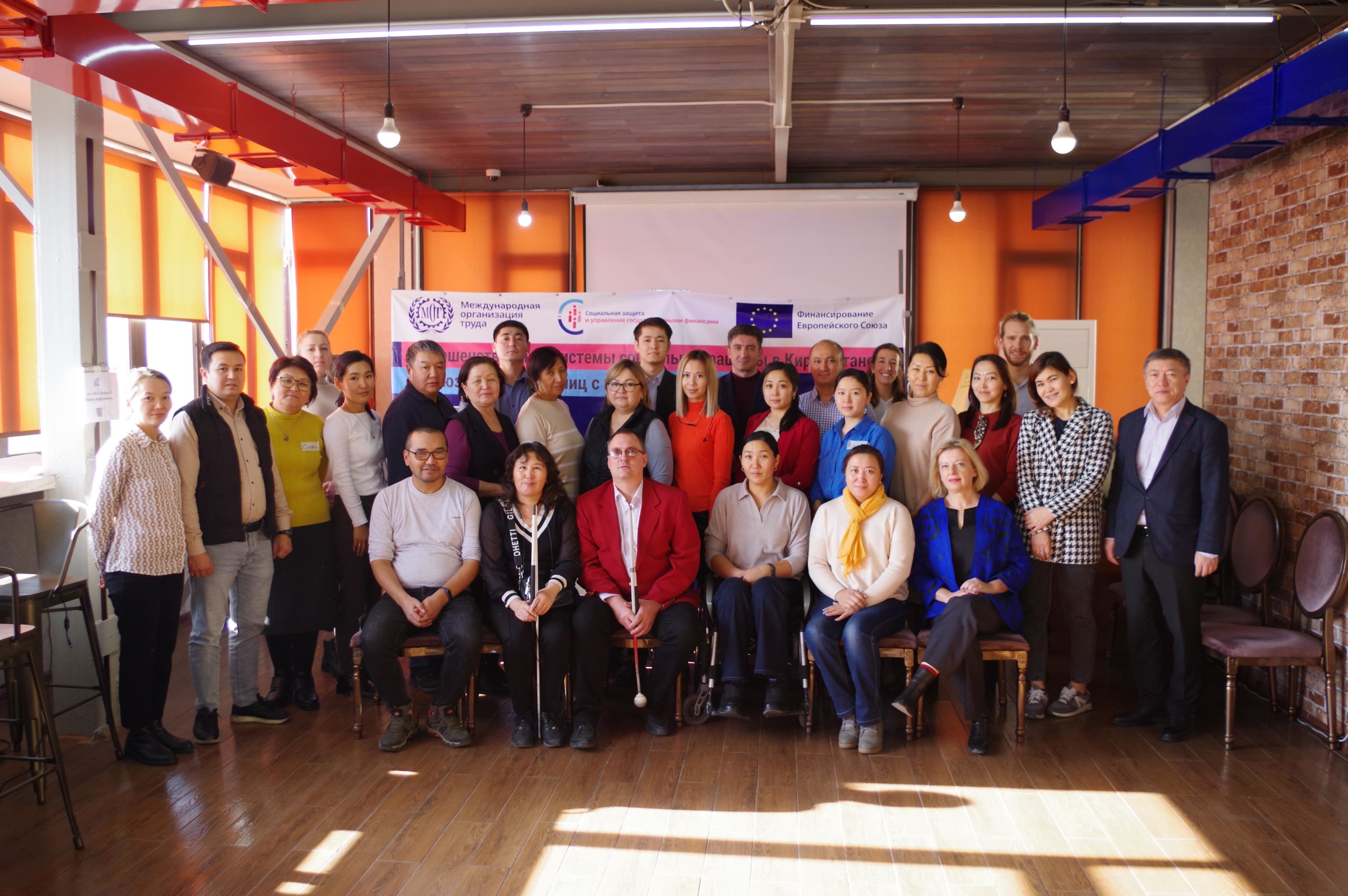 Design Thinking workshop for more disability-inclusive social protection systems, November 2022.
To help increase the inclusion of workers with disabilities in the Kyrgyz labour market, SP&PFM arranged a three-day workshop on utilizing design-thinking to arrive at new social protection and employment services.
Around 30 representatives of the Ministry of Labour, Social Security and Migration, the Ministry of Economy and Commerce, the Ministry of Finance, the Federation of Trade Unions of Kyrgyzstan, the Business Association JIA, the Association of Social Entrepreneurs, the public employment service of Bishkek, the Bishkek Department of Social Protection, the Kyrgyz Society of the Blind and Deaf, the Association of Disabled People of Kyrgyzstan, the Union of Persons with Disabilities "Equality", international development partners and people with disabilities participated in the workshop from 23 to 25 November in Bishkek.
"Design-thinking" is an iterative process in which you seek to understand your users, challenge assumptions, redefine problems and create innovative solutions that you can prototype and test.
Thus, the workshop agenda covered a range of issues: empathy and understanding a problem from the perspective of persons with disabilities; defining needs and problems; ideation and exchanging ideas; and prototyping and developing ideas by making them physically tangible.
"Human-centred design is a creative approach to problem-solving," explained Orozmatov Marat, who works with the Kyrgyz Society of the Blind and Deaf and lives with a disability. "[During the workshop] we put persons with disabilities at the centre of the development process, and we tried to create services that [are] tailored to our needs."
"We hope design-thinking will become a new effective approach that makes it possible to take into account the opinions of all stakeholders," stressed Nazgul Cholumova, Head of the Department for the Development of Social Services for Persons with Disabilities and Senior Citizens within the Ministry of Labour, Social Security and Migration. She also emphasized the importance of new approaches in the implementation of the social programme.
Government support is critical, added Mambetalieva Maria, Head of the Department of Health and Social Protection of the Department of Social Expenditure Planning within the Ministry of Finance: "The financial part of any government programme is important—the budgetary approach allows for the optimization of its lines, taking into account sound grounds and sustainable goals."
Experts from the German organization Protellus – Karg and von der Heyde GbR will analyse the workshop discussions and produce a policy report with recommendations for the relevant ministries in Kyrgyzstan.
Read more about the SP&PFM in Kyrgyzstan here.