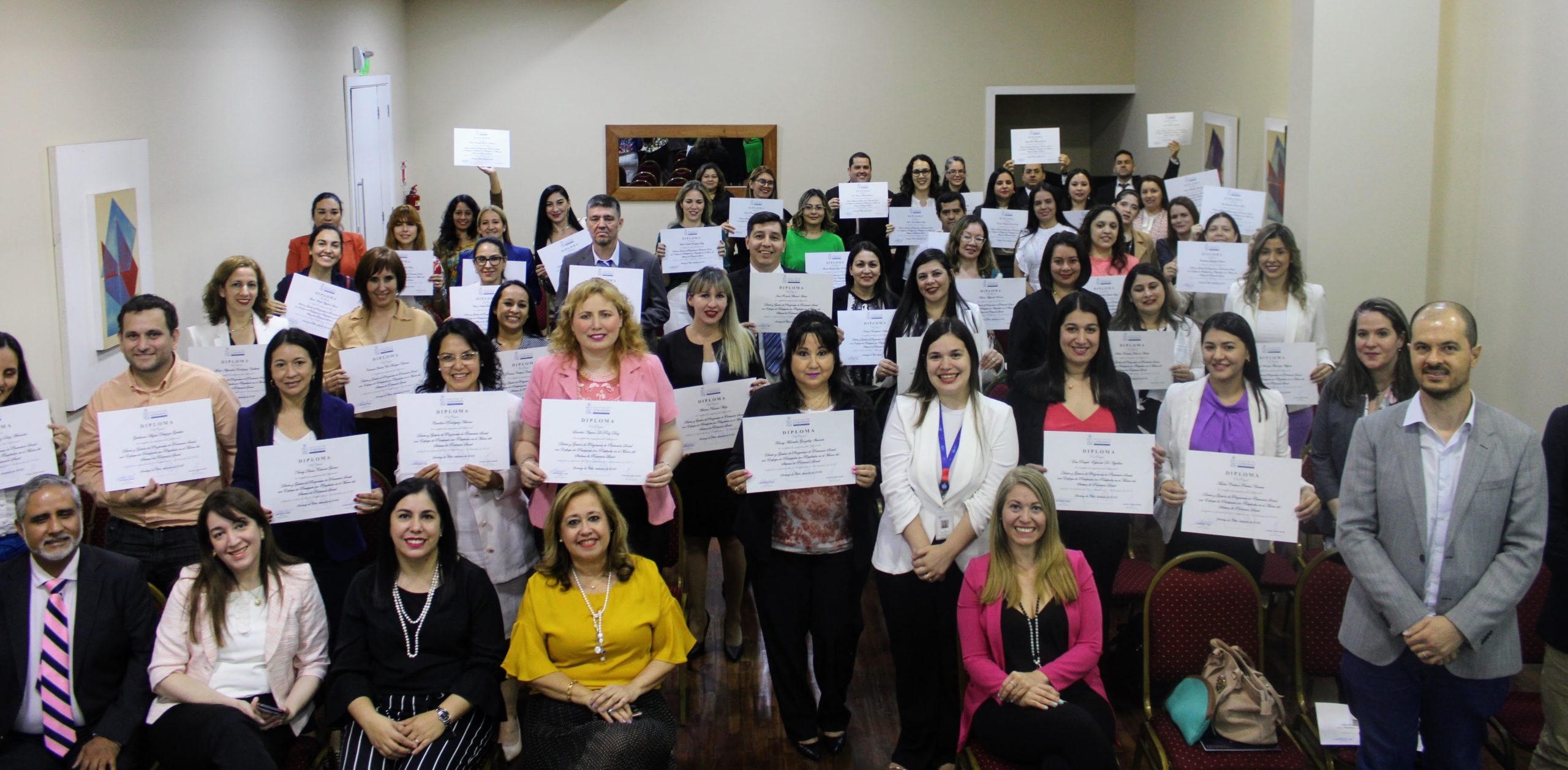 Closing ceremony of the second edition of the Diploma in Design and Management of Social Protection Programmes, December 2022.
Having completed its second edition in November, the SP&PFM in Paraguay's capacity-building diploma course on the Design and Management of Social Protection Programmes with a Results-Based Budgeting Approach Within the Framework of the Social Protection System ¡Vamos! has now trained more than 100 people from the country's public sector, civil society and international cooperation agencies.
SP&PFM in Paraguay partnered with the University of Chile to provide the two editions of the course.
During the closing ceremony of the course in which the students received their certificate of participation, Guillermo Montt, ILO Senior Social Protection Specialist for the Southern Cone of Latin America, highlighted that more than 160 applications were received for the second edition, of which more than 60 participants were selected. More than 45 people participated in the first edition of the course.
Teodora Recalde, Director General of the Ministry of Finance's General Budget Directorate, thanked the course collaborators and the University of Chile for guiding the way to the course on designing social protection programmes with a results-based budgeting approach and for the training on the tools to deliver goods and services to all citizens.
Carmen Ubaldi, Minister in Charge of the Office of the Management Unit of the Paraguayan Presidency and Executive Director of the Technical Unit of the Social Cabinet, highlighted the impact of the course: "This diploma course adds to the efforts being made to involve the different actors at the national, municipal and departmental levels to work towards a better country, a protected Paraguay, generating better conditions for all."
As part of the closing ceremony, responsibility for continuing the diploma course was transferred to the Nuestra Señora de la Asunción Catholic university in Paraguay. University Director Camilo Filártiga acknowledged what a great privilege it is to be part of this process and pledged that the university will make every effort to maintain the performance and quality standards of the training. He also invited everyone present to recommend the training to their peers.
Other representatives of the different institutions involved in the course cited the valuable experience in creating the curriculum in reflection of the Paraguay's context and with the aim of providing practical tools for the design and management of social protection programmes with a results-based budgeting approach.
Watch the recap video on the first edition of the Diploma here. 
Learn more about the SP&PFM in Paraguay here.
See also the photo gallery of the closing ceremony here.