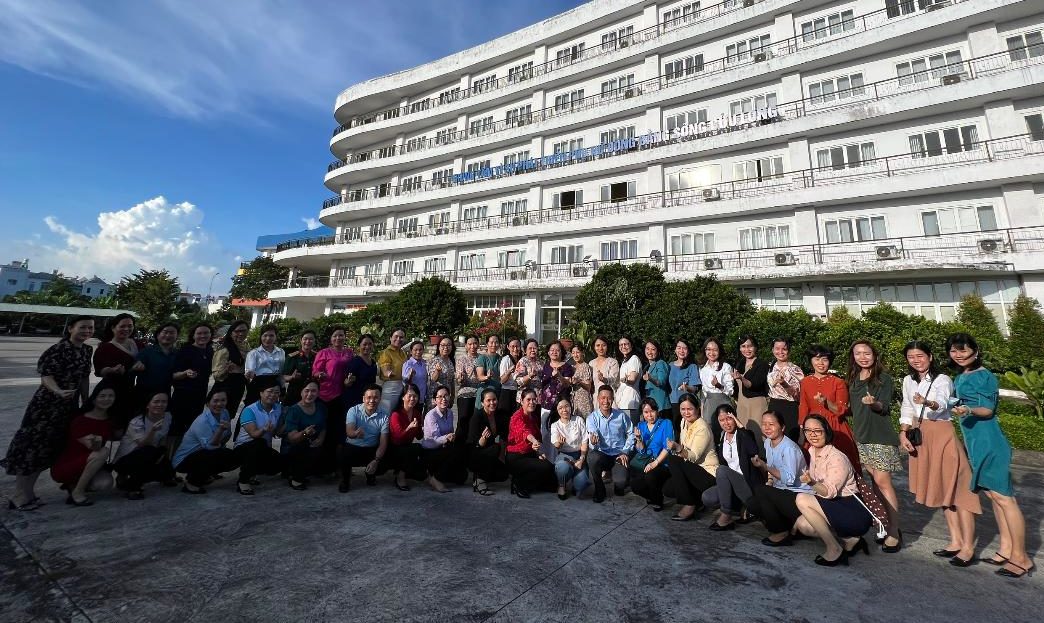 A SP&PFM-supported gender training package for policy advocacy in social protection was finalized and piloted
during a recent three-day workshop (6–8 December) involving more than 40 staff persons from the Vietnam Women's Union. The training materials will help build up the capacity of the Women's Union staff at the central and subnational levels to actively participate in policy discussions and dialogues on promoting gender equality in social protection in Viet Nam
.
Viet Nam Women's Union participates in gender training package, December 
2022.
The workshop was part of the 2022 16 Days campaign to end gender-based violence, with the theme "Respect Women and Children".
Gender gaps in participation and earnings continue to place women in Viet Nam at a disadvantage when compared to men. These gaps affect women's access to social insurance benefits as well as the value of the benefits they receive. For instance, only 16 per cent of women aged 65 or older receive a social insurance pension, compared with 27.3 per cent of men. In 2019, the average value of men's pensions was higher than that of women's pensions, by almost 20 per cent. In a context of gender inequality in the labour market and in social and family relations, gender-neutral rules in social security may not be sufficient to guarantee adequate social protection for women.
"The package is extremely valuable for [the Vietnam Women's Union] to build the capacity for its staff, thus improving the quality of policy advocacy towards gender-responsive social protection policy in Viet Nam," praised Cao Thi Hong Minh, Deputy Head of Inspection Committee of the Vietnam Women's Union.  
The Vietnam Women's Union is a socio-political organization that represents and defends the legal and legitimate rights of women in the country. It is an active stakeholder in the course of promoting gender equality in social protection in Viet Nam.
Learn more about the SP&PFM in Viet Nam here.