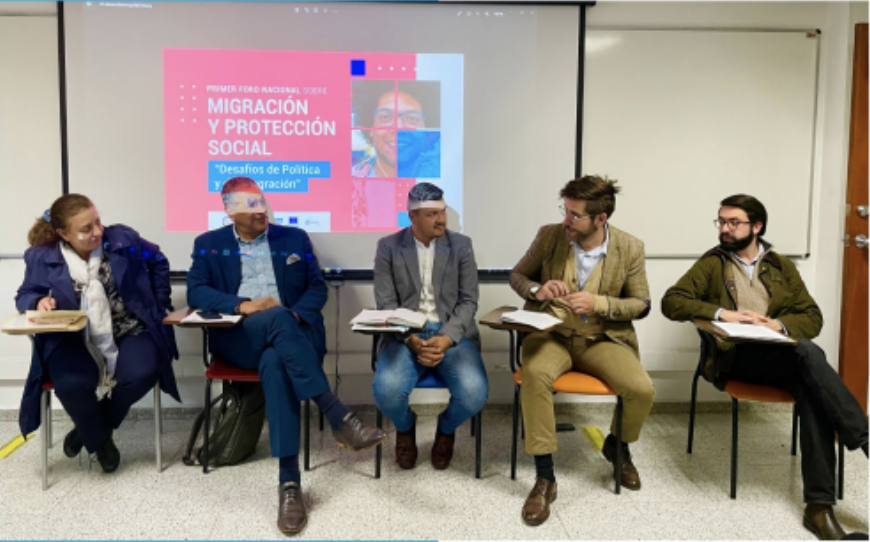 Colombia's first SP&PFM forum on migration and social protection brought together tripartite officials in November to discuss the policy and integration challenges of migrants at the national and territorial levels. The progress of the SP&PFM Programme on promoting labour formalization of Colombia returnees from Venezuela and Venezuelan migrants in Colombia led the discussion, followed with the regional and academic perspectives on the Venezuelan migrant population.
National forum on migrantion 
and social protection
, November 2022.
According to an SP&PFM survey on the barriers that Colombian returnees as well as Venezuelan migrants face in accessing Colombia's labour market: 52 per cent are individual barriers related to personal, educational, labour or document aspects; 31 per cent are environmental barriers related to social, geographical or institutional matters; and 17 per cent are organizational barriers related to ignorance and discrimination.
Other programme research determined that the effective integration of the migrant population into the Colombian social protection system requires: (i) improving the levels of health insurance for both the Colombian returnees from Venezuela and the Venezuelan migrants and (ii) improving the levels of enrolment of the migrant population into the social protection system (sisbenización).
Read more about the main challenges identified by SP&PFM in Colombia here.
The tripartite forum discussion on national public policy drew high-level officials: the Director in Charge of Employment Generation and Protection and Family Subsidy of the Ministry of Labour, the Vice President of the Colombian Association of Small Industrialists, the General Secretary of the Centre of Colombian Workers, a delegate for the Legal Team of the National Association of Industrialists and a delegate from the Social Security Department of the Centre Unit of Colombian Workers.
They discussed employment creation, the potential of support measures to migrants in the labour market and the consolidation of a comprehensive migration policy. All speakers during the forum agreed on the need for an institutional articulation that contributes towards improving the conditions of the Colombian and Venezuelan migrant populations.
Watch the video of the tripartite discussion on national public policy here.
During the forum, reference was made to the 2021 call from the International Labour Organization  to identify the challenges and successful experiences regarding the integration of Venezuelan migrants into the Colombian social protection system. Within the framework of this call, four working groups were organized around four sectors: health, humanitarian care, the labour market and education. The working group on the labour market reported to the forum participants that the biggest challenge is the documentation and regularization of migrants. The group also noted the gaps between the skills demanded by companies and the skills of what the migrant population has to offer.
For more information on the findings of the working groups, read the ILO report on the inclusion of Venezuelan migrants in the Colombian social protection system here (in Spanish).
Read the infographic summary of the forum here. 
Learn more about the SP&PFM in Colombia here.